We all assume that being a vampire has to be awesome. You get to live forever and you probably have amazing powers. The downside of course, is that you will have to survive on human blood, which may cause some problems with friends if you think they want to be your next snack. 
This is the dilemma faced by Doug Lee in Fat Vampire: A Never Coming of Age Story by Adam Rex.  Doug has just been transformed into a creature of the night…the only problem is, he's still short, overweight, and not so smooth with the ladies.
Doug becomes a vampire at the age of 15 after being unknowingly attacked by one of his classmates. He enlists his best friend Jay to help him procure blood after a series of unsuccessful attempts to feed himself. Doug appears to be the world's most insecure and un-sexy vampire, a far cry from what we are used to seeing in the movies. When Indian exchange student Sejal enters Doug's world, he is sure he has found the girl that will change his life. But first, Doug must meet with his new vampire mentor, survive a screening of The Rocky Horror Picture Show, and hide his own secret identity from his friends and family. 
I like Doug. He is a funny and genuine character who is struggling with who he is as a teenage boy – not to mention that he is undead. He wants to be liked and admired by his peers – so much so that the dark side of being a vampire begins to take over his life.  Doug doesn't want to put his friends in danger, but he inadvertently does so just by being what he is. It's hard to watch Doug struggle with his dark side, and I began to question where his character would end up by the end of the book. Is Doug the hero of the story?  Or does he give in to temptation and turn his back on his human life?
Overall, I was disappointed that Sejal the exchange student didn't play a bigger part in Doug's transformation. When Sejal is introduced in the story, her path is quite different from Doug's. Her storyline is prominent throughout the book, but I felt that she and Doug never crossed paths in the way that they were meant to.  At times it almost seemed like two different, diverging stories were being told – that of Doug the teen vampire, and that of Sejal the computer-obsessed exchange student.
What I did like about the story is that it was very funny, and should have a broad appeal to teen boys. Doug is an average kid who just happens to be a vampire, and his story is relatable. I was however disappointed at the ending – although several male teen members of my book club chose to view the closing from a different perspective. I won't ruin it for you, but it's definitely not the best-case-scenario for everyone involved.
I hope to see more teen books like this in the future. Books that are funny, but still have a heart and a good story. I'm not quite over the vampire craze myself, so it's nice to see the traditional demon story told in a different way (and without vampires that sparkle).
About the Author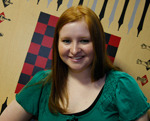 Megan Garrett is the librarian at the Sugar Creek Branch of the Kansas City Public Library. She also writes book reviews for the Independence Examiner newspaper.