Post date:
Tuesday, February 19, 2013
In the 16th century, a man of infinite faith and superior education questioned both and penned a classic of spiritual reading that resonates today.
St. John of the Cross wrote Dark Night of the Soul while he was in prison. In his review of Winter Reading selection Dark Night of the Soul, Bluford Branch library staffer Bernard Norcott-Mahany talks about the poem and the commentary St. John included with it upon publication. Bernie has been reading the poem during the month of February and blogging his observations and struggles and invites further commentary from other readers.
The annual Adult Winter Reading Program runs from January 7 – March 17. The 2013 program offers a chance to win one of four e-readers as well as the opportunity to see Winter Reading featured author Laura Lippman in person on February 25 at the Central Library, where she will discuss her new book And When She Was Good.
The theme for Winter Reading, While the City Sleeps, entices readers to explore fiction and nonfiction, the interplay of light and dark, the shadows of the human soul and the brightness of the human spirit.
Get Bernie's take on Dark Night of the Soul, and check out other Suggested Readings.
[video:youtu.be/xda9if-BZKg align:center]
About the Author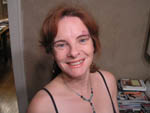 Kaite Mediatore Stover is the Director of Readers' Services at the Kansas City Public Library. She is a regular guest on KCUR's Book Doctors segment and moderator of The Kansas City Star's FYI Book Club. She can tap dance, read tarot cards, and doesn't bite.