Post date:
Monday, September 26, 2011
Whether you're adopting a vegetarian lifestyle, making an oath to eat healthier, or are just looking for some delicious new recipes to try, Family Vegetarian Cooking from Good Housekeeping is exactly the cookbook you've been looking for.
To begin with, don't let the word "vegetarian" turn you off from this great new addition to the Library's culinary collection. Of the 225 recipes offered in this book, there are literally dozens of dishes, like the Spinach and Potato Gratin or Blueberry Pancakes with Warm Blueberry Sauce, that even non-vegetarians will devour.
Almost all of the recipes use every-day, inexpensive ingredients that can be found easily in any grocery store (with the exception of a few items – like Gruyere cheese), and each dish includes the total time to complete, serving size, and most importantly, nutrition information.
While Family Vegetarian Cooking is not a beginning cookbook, most of it can still be used by someone with even minimal cooking experience because of the easy-to-follow instructions. And although this is not a microwave cookbook, occasional recipes, including the Creamy Parmesan Twice-Baked Potatoes, explain how they can be completely prepared in the microwave.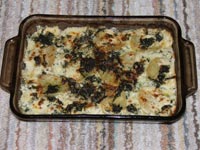 This cookbook is a great option for busy moms who are looking for easy, tasty, and healthy lunch and dinner options. It's also a good choice for families with a vegetarian member or for anyone looking to improve their health through diet and food choices.
The wide variety of recipe sections featured in the book includes breakfast dishes, pizzas, sandwiches, salads, soups, stews, chilis, stir-fries, veggies on the grill, pasta, and desserts. There is even a section entitled "The Flexible Vegetarian" with recipes that can be prepared with or without meat.
Extra features in Family Vegetarian Cooking include superb color photographs, special vegan recipes, a section highlighting vegetarian nutritional guidelines and food groups, and lots of colorful "tip boxes" containing nutrition information and helpful cooking suggestions.
The best part about Family Vegetarian Cooking is that it makes healthier eating achievable and straightforward without sacrificing flavor or variety. You'll find yourself using this cookbook whether you're preparing a quick lunch for friends or a special-occasion dinner party. You'll reach for it when the family gathers around the table for Sunday breakfast or when searching for a scrumptious new dessert to try.
About the Author

Amy Morris is a librarian technical assistant at the Westport Branch. She earned a B.A. in English, with an emphasis in creative writing, from Avila University. Besides reading and writing, Amy enjoys traveling, art, being creative, and spending time with her family.