Your classics reviewer got to this book in a rather roundabout way. I made the decision to review this title after I had bought my Nook this past January. But first, I had watched two film productions of Little Women (one with Katherine Hepburn, the other with June Allyson as Jo) on TCM.
My wife was puzzled as to why I was watching not just one, but two versions of Little Women. I pointed out my fondness for remakes and explained that to appreciate (or hate) the remake, you have to see the original. She shook her head in dismay and left to watch a different Christmas movie (I think it was Die Hard) elsewhere in the house.
And then, when I got my Nook, I noticed that it had three titles already loaded, one of which was Louisa May Alcott's Little Women. I figured it was fate, and you can't fight fate, and so it became my December book this year. Another reason for reading: the book starts as the March women get ready for their first Christmas without Mr. March, making it a suitable holiday title.
My interest in Louisa May Alcott extends beyond her work as an author. Her father, Amos Bronson Alcott, was one of the group of New England thinkers called the Transcendentalists, and he was a rather-forward thinking proponent of education.
In Alcott's school (the Temple School in Boston) there was no corporal punishment of children (keep in mind this was the 1840s, when corporal punishment was the norm).  Rather, he blamed himself if a child failed to understand something and was known to put his own hand out to be struck by the children. He was also opposed to rote learning, also the norm of the day, choosing rather to use the Socratic method in his teaching. 
After the Temple School failed (it lost many of its students when Mr. Alcott chose to retain an African-American student in the school), he co-founded a commune called Fruitlands. 
The spirit of radical reform was exhibited by others in Louisa May's family.  Her maternal uncle, Samuel Joseph May, minister of the Church of the Messiah in Syracuse, New York (later known as May Memorial) was one of the leading abolitionists of the day.  Her parents and other of her relatives were also prominent in the fight for women's rights and women's suffrage. 
So, you can see why I was attracted to Louisa May Alcott: she was a wild feminist, and part of a crazy hippie family – back in the 19th century before it became fashionable.
Well, I didn't quite find the wild feminism nor crazy hippiedom in the book (and was pretty sure I wouldn't, having seen the two film versions already). But what I did see I found fascinating and quite entertaining. There was some of Alcott's educational idealism in the book. When one of the March girls, Amy, is ridiculed in class by a teacher, Mrs. March quietly but vehemently expresses her disapproval of the teacher's tyranny, arguing that reason and kindness are better teachers than scorn. And Jo herself practices some of that reason and kindness when she serves as governess and later manages, along with her husband, a school for boys. 
The book is a Bildungsroman of the four March sisters, Meg, Jo, Amy and Beth, all the time watched over by their kind and wise mother (called Marmee by all). If you've seen any of the movies, you will expect it to be a book of the home front during the Civil War – the women having to make it on their own with father away in the war.
This is only about half of the first half of the book; the entire book covers a period of about seven years (the book begins at Christmas of 1861, and ends in about 1868, the year the book was first published). The second half of the book features the four girls as they face adulthood and adult responsibilities. That, I found ever so more interesting.
As I got ready to read the second part, I wondered how a 19th c. feminist author would approach the whole question of the conditioning of girls to become women? Would she frankly address how society's conditioning aims at largely limiting women to the roles of wife and mother? Or would the second half keep the fairy tale, "One Day My Prince Will Come" approach so common to girls' lit? I found the answer a bit complicated.
Alcott does not make a frontal assault on the whole system of patriarchal society, but she does suggest other options. First, Jo, though she is happy to marry Prof. Bhaer, would not be happy solely being wife and mother. Rather she embarks on the path of experiential learning with the Professor. Interestingly, the school she and the professor set up is for boys only. So though the school is new and unconventional (just like her dad's Temple School), only boys will benefit, not girls. 
Second, Meg, the eldest, is quite happy to be wife and mother, but she soon finds herself subsumed into the role and very unhappy, so that Marmee needs to do an intervention.  Only by giving up on the whole Supermom idea, and letting her husband take his own share of the household burden, can the marriage work and the young couple be happy.  Here too, of course, Marmee couches the matter in terms of Meg being a supportive wife to her husband – in other words, it's his world, and she must live within that world.  But Marmee is not in favor of her girls being passive in such a world. 
Third, Amy, the most conventional of the girls, with dreams of a rich and handsome prince rescuing her from a life of poverty, ends up turning down the pleasant rich young man she figured could give her material comfort and to whom she could be a pleasant trophy wife.  Instead, she marries for love (admittedly she marries another rich man – their neighbor, Laurie) and she gains an authority she did not have as a girl. She provides a strong counterpoint to her husband, and inspires in him an ambition all thought quite alien to the witty and charming, but rather lazy, boy. 
My biggest shock in reading the book (SPOILER ALERT) is that Beth, the youngest of the sisters, does not die at 12 or 13, as in the film versions, but lives to young womanhood herself. Saintly Beth, who endures all her suffering with gentle acceptance, is an inspiration for her sisters, and especially for Jo. Though I was happy to see Beth make it to her teens, and maybe a smidgeon beyond, I felt Beth was much too much the poster child for 19th century womanhood – physically weak and dependent on others, taking all with a saintly demeanor. It seems almost as if Louisa May is suggesting that women accept their lot in man's world and smile, which is tough to take. 
Alcott's novel was a break-away hit when it came out, and made her and her idealistic, but impractical, father secure for life. They continued to fight for their ideals, including women's rights. This book shows, and its popularity seems to endorse the idea, that women must fight for their rights only so far, and only so hard, so that Louisa May Alcott, feminist, finds herself unable to break through the patriarchal cocoon of her time. 
About the Author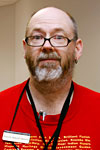 Bernard Norcott-Mahany, a library technical assistant at the Lucile H. Bluford Branch, is our resident connoisseur of classic literature. He is also the leader of the Black Classics and In the Heat of the Night book groups.