Is your makeup trying to kill you? Some days it may seem like it. The blusher quits working, the foundation is flat, the lipstick has turned into Clown Red but the label says "Blushing Bride Pink."
Perry Romanowski and the collective of cosmetic scientists behind The Beauty Brains understand the science and tech behind the beauty biz and know how to explain it in simple terms. Think of them as the Dear Abby of the cosmetic counter. They'll answer any question, no matter how absurd.
And they have some silly ones in their book Can You Get Hooked on Lip Balm?* While the questions may seem silly, the answers are serious. The Beauty Brains speak openly about name-brand hair care products and such products' claims to body-enhancing magic. Newsflash: The cosmetics industry is in it to make a buck, but they can't lie about what their products do. Read between the lines of the fine print. But there's some solid advice and science in this book, too.
For starters, the BBs talk about the biological components of hair and how to keep it healthy and shiny. The upshot? Don't put stuff on it: chemicals, heat, pressure. This means go easy on the coloring, flat irons, and hair extensions. But if you can't, they offer practical guidance for keeping hair as healthy as possible under these adverse conditions.
The chapter on skin care addresses all sorts of old wives' tales – dryer sheets and acne, snake venom as Botox replacement, curing warts with duct tape. For every myth, there's plenty of sound wisdom regarding wrinkle prevention, the proper application of sunscreen, and the simple definitions of unusual ingredients and treatments such as shark oil, mesotherapy, and buttermilk.
But the best chapter is the one on makeup. Read this one carefully for some interesting info on the ingredients in lip plumper, on using lipstick as eye shadow, and why wearing nail polish will turn your nails yellow.
The Beauty Brains conclude with some practical advice you're already heard from your mother: read the labels, don't believe everything the cosmetic companies tell you, and moisturize, moisturize, moisturize.
*See Chapter 6.
About the Author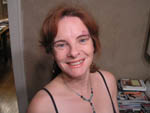 Kaite Mediatore Stover is the Head of Readers' Services for the Kansas City Public Library. She is a regular guest on KCUR's Book Doctors segment and moderator of The Kansas City Star's FYI Book Club. She can tap dance, read tarot cards, and doesn't bite.