When I picked up Bossypants by Tina Fey, I knew before reading the first sentence that I would enjoy the book. What I didn't know was how much the cover (featuring Fey with big, beefy man-arms) would creep me out every time I actually picked up the book.
Tina Fey is smart, funny, and one of my favorite TV personalities. Her memoir takes a comical look at her rise to the top of NBC, which I'm pretty sure she did without help from those man hands.
Fey currently stars on the NBC Thursday night comedy 30 Rock, but many of us recognize her as a past cast member and head writer of Saturday Night Live. Fey began her comedy work as a member of the traveling troupe Second City back in the 1980s.
Throughout Bossypants, Fey weaves humorous anecdotes from her adult life into a narrative about how she arrived at where she is now. We see a young Tina with dreams of not working overnight shifts at the gym slowly grow into a famous caricature of Sarah Palin.
I've enjoyed watching Fey on TV since her days on Saturday Night Live. She brought a female touch back to the humor during the Weekend Update sketch, and as far as I'm concerned she hit it out of the park with her offbeat comedy 30 Rock. I hoped this book would offer a little insight behind the comedy genius – and it did.
Is Tina Fey really the nerdtastic heroine of comedy that she portrays on TV? She is – times a thousand! Her memoir reads like a comedy TV mini-series; we all experience the highs and lows as Fey begins to take over the male-dominated SNL writer's room.
The book is relatable because Fey is able to share her personal stories with the same sharp-witted humor we expect when we see her on TV. I was unsure if this type of humor would translate into a book, but Fey found a way to keep her story flowing with an easily understandable tone.
Obviously, I opened this book as a BIG fan of Tina Fey and was not disappointed. I feel that the book was funny enough though to appeal to a wide variety of people – probably anybody that likes to laugh.
Fey's brand of comedy is a bit quirky and is admittedly not for everyone. For me however, 275 pages of pure comical genius just weren't enough. I found myself actually sad when I finished reading it.
As a humor-loving librarian, I can only hope that Tina Fey will continue her writing career in the future.
About the Author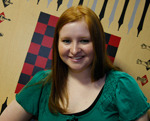 Megan Garrett is the librarian at the Sugar Creek Branch of the Kansas City Public Library. She also writes book reviews for the Independence Examiner newspaper.