Every reader loves discovering a first novel no one has read yet and passing it on to other readers who will share the delights of a brand new voice. Look what happened with Sara Gruen and Water for Elephants, Kathryn Stockett and The Help, or Garth Stein and The Art of Racing in the Rain. All became big word-of-mouth titles.
But how about those dusty gems languishing on the bookshelf that didn't get the big publicity push? They are no less satisfying, delightful and thought-provoking. Readers interested in giving a second life to a first novel may find something worth passing on from these debuts that should have put their authors on the reading map.
Somewhere Off the Coast of Maine by Ann Hood
Elizabeth, Claudia, and Suzanne are re-evaluating their lives almost 20 years after meeting in college. Confident and dedicated Elizabeth isn't sure she'll live to see her daughter's wedding. She's battling cancer. Free-spirited and wild Claudia spent the summer before college in Haight-Ashbury and now spends her time slowly going mad with grief from the death of her son. Vulnerable and sheltered Suzanne thought she'd love Abel the poet forever. That was before she got her MBA and a portfolio. Now their daughter, Sparrow, is asking troubling questions about the long-absent Abel and causing Suzanne to examine her college memories and current lifestyle. Ann Hood's first fictional effort does more than hint at the insightful talent that will be displayed in her subsequent works.
Blue Italian by Rita Ciresi
Rosa and Gary are madly in love and in the middle of another wild petty argument in Rita Ciresi's debut, Blue Italian. Rosa, a working-class Italian girl falls in love with Gary, the sole Jewish son of an affluent family. The story moves easily between these polar opposites as they confront the everyday trials of marriage and the life-changing news that Gary has inoperable cancer. Rosa's ruminations on love, widowhood and why Gary selected Blue Italian as their wedding China will induce laughter and tears.
And My Shoes Keep Walking Back to You by Kathi Goldmark
Sarah Jean's first big break in the country music business gets her fired. On tour as a backup singer with C&W royalty Cindi-Lu Bender, Sarah Jean hosts a road party for her fellow backup singers, assorted roadies, and band members. After a night of Wild Turkey (and wild sex), she wakes up to find a little song she recorded before she left with the tour has shot up the charts, garnered her an award nomination as Newcomer of the Year, and ticked off the show's headliner. And My Shoes Keep Walking Back to You is full of Sarah Jean's hilarious song lyrics and sharp-eyed observations on the C&W biz as she crawls home and gets ready to be The Next Big Thing.
Relative Danger by Charles Benoit
Any reader who has taken a brief moment to wonder whatever happened to those great, old movie serials will find the answer in Charles Benoit's debut novel. It possesses all the ricochet pacing and heart-stopping action of the best outlandish adventure shorts. Doug Pearce has always been fascinated by tales of the family black sheep, Uncle Russ, who died under mysterious circumstances in a Singapore hotel right after World War II. An old friend of Uncle Russ' contacts Doug and charges him with discovering exactly how Russ died and what happened to a priceless diamond Russ had stolen and smuggled out of Egypt. Suddenly, Doug's humdrum life and bleak future have spices as exotic as the foreign lands he's almost getting killed in. Doug zips around the Middle East and the Orient, jumping rooftops in Cairo, dodging thugs in Singapore and making friends in an Egyptian prison. He's not sure he'll get out of this mission alive, but at least he knows what living feels like.
One Thousand White Women by Jim Fergus
In 1875, 1,000 women made the perilous trek across the American prairie to become the wives of Cheyenne men in exchange for horses. May Dodd keeps a detailed journal of the One Thousand White Women and their adventures, friendships and histories on their mission to "civilize the natives." Many of the women are former convicts or sanitarium patients. If the women stay married two years and produce children, they may have the option of leaving the tribe. For services rendered, each woman will receive a parcel of land. This is a compelling historical novel with many colorful characters and tense situations.
Readers of Jim Fergus' debut will immediately be drawn to the characters of inquisitive May, proud Euphemia, the rambunctious Kelly twins, and cultured Daisy as May carefully describes the assimilation of the women into Cheyenne daily living, learning the Cheyenne language and the selection of the brides and braves. Fergus employs a moderate pace to ensure readers do not miss the intriguing details of the Cheyenne culture. The tone is a combination of May's brisk no-nonsense attitude and innocent marveling at the unspoiled countryside and her new husband's family. Look also for the beautiful bird paintings adorning each entry, and after the last page is turned, carefully view the book's cover art.
What are some of your favorite first-time classics?
About the Author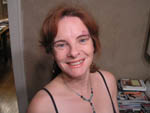 Kaite Mediatore Stover is the Head of Readers' Services for the Kansas City Public Library. She is a regular guest on KCUR's Book Doctors segment and moderator of The Kansas City Star's FYI Book Club. She can tap dance, read tarot cards, and doesn't bite.