The story goes that William Faulkner happened to meet Sherwood Anderson in New Orleans in 1925, after Anderson had already achieved fame as a writer for his collection of stories, Winesburg, Ohio. Seeing that Anderson enjoyed a pretty good life and had a job that did not seem strenuous, Faulkner—averse to strenuous labor—decided to become a writer himself. He got help from Anderson in getting his first book, Soldiers' Pay, published in 1926. Apparently it was Faulkner's persistence rather than any perceived literary skill that won the day, as Anderson's efforts came with the proviso that he not have to read Faulkner's manuscript.
For those who hear the name Faulkner and think Yoknapatawpha County, I must tell you, that county didn't yet exist in 1926. It was only with his third novel, Sartoris (AKA Flags in the Dust), that we get introduced to Faulkner's mythical Mississippi county, with its county seat of Jefferson, which was the setting of almost all of Faulkner's work. In this first novel, Faulkner focuses on the plight of a wounded soldier, returning from World War I. In America, as well as in Europe, the effect of that war on the bodies and psyches of young men, and on their families and loved ones back home, was a subject many novelists took on.

In this book, former pilot Donald Mahon returns to his hometown in Georgia, accompanied by Joe Gilligan, another demobilized soldier and Mrs. Powers, a war widow. Both Gilligan and Mrs. Powers met Mahon on the train from New York to Atlanta, and they took him under their wing. They continued in the role of caretaker even after Mahon got home. The war had left Mahon blind; he is also a bit withdrawn, possibly with some cognitive damage, and not communicating much verbally with others. What few words he utters, he largely reserves for Gilligan and Mrs. Powers.
The book is filled with a variety of interesting and peculiar characters: Mahon's fiancée, Cecily Saunders, who has not been particularly faithful to him while he was away; Saunders' sometimes boyfriend, George Farr; Mahon's father, the Episcopal priest in the town; a Mrs. Burney, a working class woman, whose son died in the war, with the result that she now gets attention from the more prominent women in town because of her sacrifice, which is all the more ironic, as her son was killed following his own fatal attack on Captain Powers, Mrs. Powers' husband—something none in the town know; Mr. Januarius Jones, a Latin teacher, who is also quite the sybarite, trying, with various degrees of success to have sex with the women of the town; poor suffering Emmy, a servant in Rev. Mahon's house, who had been emotionally attached to Donald Mahon before he went off to war.
Here's what you'll get if you choose to pick up this book—a novel that displays the author's great facility with language, and a complicated mix of plots, pretty deftly handled. And you'll get a story of the Lost Generation of men who suffered terribly in war and never quite found their place again. The title of the novel ostensibly refers to pay Mahon receives at the war's end, but it also refers to the agonizing payment soldiers get when they return home after the trauma of war.
Here is what you won't get—the great web of interconnected stories that give the Yoknapatawpha stories such a sense of place and a feel that is mythic. There is nothing about the Georgia town in this story that distinguishes it from any other small town in American fiction of the time. And you won't get the level of mastery of language that Faulkner will demonstrate when he hits his stride with The Sound and the Fury, his fourth novel. It's clear that Faulkner knows the English language and loves its sound, but his language in this book is a bit showy and fanciful, even brightly sarcastic, as the following examples will show:
Outside the station in the twilight the city broke sharply its skyline against the winter evening and lights were shimmering birds on motionless golden wings, bell notes in arrested flight; ugly everywhere beneath a rumored retreating magic of color.

Afternoon lay in a coma in the street, like a woman recently loved. Quiet and warm: nothing now that the lover has gone away.
Sounds like cheesy hard-boiled fiction at times.
If you've never read Faulkner, and want to know what Faulkner really sounds and feels like, read a novel like The Reivers or Intruder in the Dust or Light in August, which are still quite approachable, but which show a Faulkner in full command of his prodigious literary talent. If you have read some Faulkner, you might give this book a try, to see what Faulkner was like before he became the guardian of Yoknapatawpha County and perhaps the greatest of all American novelists.
About the Author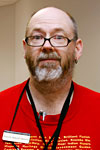 Bernard Norcott-Mahany, a library technical assistant at the Lucile H. Bluford Branch, is our resident connoisseur of classic literature. He is also the leader of the Black Classics and In the Heat of the Night book groups.