Post date:
Tuesday, December 28, 2010
I have an unusual relationship with the Liberty Bell. It almost got me arrested. I was in Philadelphia on business, and a group of us were walking around the city late at night when we passed Independence Hall. I wanted to take a picture of the patriotic relic and stepped up to the fence surrounding the enclosure.
I couldn't get close enough, so I climbed the fence, swung a leg over to keep my balance, and perched to get a better angle.
And that's when I heard shouts and heavy footsteps moving quickly in our direction and felt my buddy Andrew grab me and pull me off the fence.
Apparently, it's a federal crime to get too close to national treasures. Or so the federal guards told me.
Every year, more than 2 million visitors line up to view this flawed mass of metal that is over 250 years old. This silent icon of American history captivates Americans and international fans, and Gary B. Nash's The Liberty Bell is an accessible and intriguing biography of a bell to satisfy any history buff.
Nash researches the scripture carved on the bell and the scant histories of John Pass and John Stow, the men who offered to recast the bell after its fateful debut in Philadelphia. That first bong rendered the bell a heap of worthless scrap metal, and Pass and Stow recast it twice.
The Liberty Bell's defining moment occurred on July 8, 1776 when the "Old Bell" pealed to gather folks to the State House yard, where Colonel John Nixon read aloud the newly signed Declaration of Independence.
From the bell's forging in a London foundry, to its seven road trips, to the hundreds of children photographed kissing the bell, Pass and Stow's metal masterpiece has become more than a symbol of American history. It's "everyone's Liberty Bell."
The Liberty Bell is what freedom sounds like, even when silent.
About the Author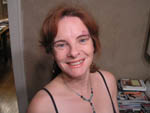 Kaite Mediatore Stover is the Head of Readers' Services for the Kansas City Public Library. She is a regular guest on KCUR's Book Doctors segment and moderator of The Kansas City Star's FYI Book Club. She can tap dance, read tarot cards, and doesn't bite.