Americans across the nation frequently profess their love for their country with football, hot dogs, fireworks, and country music. But the U.S. is a country known for its wide-open spaces and all-of-a-kind populace. There's always been more to love about our home than the Super Bowl, Chevrolet, and Route 66.
Barbara and Brent Bowers and Agnes and Henry Gottlieb – all with serious journalistic cred – have compiled 1,000 Things to Love About America. Counting down from 1,000 to 1, this book runs the gamut, from expected objets d'affection like the Empire State Building, to the je ne say what? of Yogiisms ("When you come to a fork in the road, take it").
Wondering which bits and pieces deserve your heart? How about #871: Mysterious Disappearances? Ambrose Bierce did a fade out sometime in 1913 while following Pancho Villa. Amelia Earhart entered the cloud somewhere over the Pacific in 1937. D.B. Cooper tried walking on sunshine after hijacking a 727 in 1971, but the bag of cash he took with him when he jumped from the plane probably weighed him down.
Or #667: Jack Daniels Old No. 7? The Tennesee sour mash that "tastes like Kentucky bourbon, but better?"
Elsewhere, the New York Times crossword puzzle, White Castle burgers, and motorcycle jackets all made the list.
But if you are frugal with your affections and want keep your love close to home, then check out #942: The Steamboat Arabia Museum, or #809: The World's Largest Ball of Twine – is it in Cawker City, Kansas, or Branson, Missouri?
And if you're wondering where your library ranks on the list, Public Libraries made the top 20, coming in at #14.
Democracy's bookshelf, what's not to love?
About the Author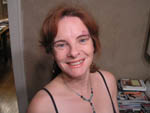 Kaite Mediatore Stover is the Head of Readers' Services for the Kansas City Public Library. She is a regular guest on KCUR's Book Doctors segment and moderator of The Kansas City Star's FYI Book Club. She can tap dance, read tarot cards, and doesn't bite.