I am a Gen X-er. I am unabashedly in love with my technology and a city girl, to boot. But there is something compelling about the lone call of the prairie and a sky so expansive that it fills you up and makes you ache for the wind in your face and the smell of the earth as it opens up after a rain.
The men who live on this prairie and raise its horseflesh and its livestock are a different breed than I knew in my suburban youth. Boleto by Alyson Hagy is not some archaic Western, however. It is about a young man who could be my contemporary, but who nonetheless lives in a different America than I do, even here in Kansas City on the edge of the Prairie.
Will Testerman is from Wyoming. He has worked on his family ranch his whole life and has come to understand his gifts with handling and training horses. The particulars of Will's story are perhaps pedestrian and predictable. This is a coming of age novel, albeit set in the Western genre. He is the youngest son of a demanding father and a stalwart, but loving, mother. After nursing his mother back from the edge of cancer, Will is ready to step out from the shadow created by his brothers and find his own path.
Where Hagy gets it spot on is in the sparse prose of her novel. There are no adjective-laden, long passages about the beauty of the earth and no testaments to how remarkable Will is. Nor is the book a neurotic drawl over how Will feels. Instead, we are treated to a clearly drawn view of the world as Will experiences it and a view of how he evolves through three set periods: time at home, time working at a guest ranch, and time at a Polo ranch in California. The novel reads like a story told around a campfire—a very long story—one that would perfectly fill three successive evenings, drawing you into its hopes and its devastation.
Will, of course, does purchase a horse. It could hardly be a novel about horse training if there wasn't one. And the filly serves as a fine leading lady. She is something very special, and arguably she and Will are on the same journey to growing up. Will develops the great emotional bonds toward the filly that can form when someone takes it upon himself to shelter and prepare another living thing for life. The ending is captivating because it doesn't speak to the glory of youth, but to the difficulty of no longer being young.
If you have any time this summer and you need to escape to a different space in your head, Alyson Hagy's Boleto is a very good place to visit.
About the Author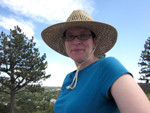 Melissa Carle is a Support Specialist with the KC-LSP and thinks life is too short to read a book that doesn't excite you in the first 40 pages. She likes cooking, herb gardening, and, of course, reading and thinks all good books, fiction and non-fiction alike, share one thing in common: they're just a good yarn.