Move over Jane Austen, there are new "It Girls" in town. After getting their fill of the witty, drawing-room banter of impoverished spinsters with no prospects in the Regency period, readers and viewers are ready for the lusty power plays of spirited wealthy heiresses and socially manipulative dowager countesses and their secret sidekicks, butlers and ladies' maids. In short – it's a whole new century!
The Edwardian era is all the rage these days. And whom does one have to thank? The same folks who catapulted Jane into the media stratosphere: PBS. Jane Austen has always been a popular favorite among fans of the BBC (Colin Firth notwithstanding), but she reached maximum exposure in January of 2008 when PBS began broadcasting every BBC production ever filmed of her novels.
Then, this past January, PBS broadcast the deliciously decadent Edwardian tele-bonbon, Downton Abbey, and reader/viewers are clamoring for more. They'll have to wait a while. The second season just started filming. But in the meantime, here's a few Edwardian novels that mix the upstairs with the downstairs. There's nothing so refreshing as watching our betters behaving badly. And they do it with such élan and panache.
The Buccaneers by Edith Wharton
For some girls, life is so unfair. Nan, Virginia, Conchita, and Lizzy are young, beautiful, spirited, and wealthy beyond measure. They are The Buccaneers, and they have everything they want – except entrée into New York society. After countless snubs, the nouveau riche quartet journey to England to meet some land-rich, cash-poor, titled gentlemen. If you can't buy respectability, maybe you can marry it. Edith Wharton's last novel was left incomplete at her death in 1937 and Marian Mainwaring finished it in 1993. The Buccaneers was also turned into a BBC production in 1995.
The Golden Prince by Rebecca Dean
As difficult as it is for rich American girls to find a husband, it's even tougher for The Golden Prince in Rebecca Dean's latest historical novel of David, the Prince of Wales. In 1911, the future King of England is speeding on a country road and hits a pretty bicyclist. He seeks medical attention for her at the nearest manor house (cause there's always one of those nearby in rural England) and soon falls in love with Lily, the youngest daughter of the manor. The Prince's father, George V, refuses to sanction his request to marry a commoner, even when the Prince threatens to abdicate his right to the throne. We all know where this story is going, but it's a sumptuous delight as we stroll along the garden path to the inevitable ending.
Rebecca by Daphne Du Maurier
You can't get good help these days. Ask the second Mrs. de Winter in Daphne Du Maurier's gothic classic, Rebecca. Our unnamed and hapless heroine is slowly being driven mad by the ghost of her beloved husband's first wife. Or so the malevolent housekeeper, Mrs. Danvers, would have her believe. Just as the second wife is about to follow the first one into the otherworld, Rebecca's gravesite is excavated in an unusual manner raising all sorts of questions about loyalty, love, and marriage.
The House at Riverton by Kate Morton
Sometimes the help is too good. In Kate Morton's debut, The House at Riverton, new housemaid Grace becomes the constant companion and confidante of the daughters of the manor, Hannah and Emmeline. Her loyalty knows no bounds as she keeps a horrible secret for more than 80 years. All three young women were present at the presumed suicide of a gifted young poet at the estate. One woman was the poet's fiancée, one was his lover, and the other knows the truth.
The age may have been gilded, but the stories are plainly riveting.
About the Author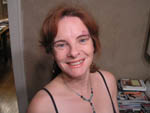 Kaite Mediatore Stover is the Head of Readers' Services for the Kansas City Public Library. She is a regular guest on KCUR's Book Doctors segment and moderator of The Kansas City Star's FYI Book Club. She can tap dance, read tarot cards, and doesn't bite.