We all know Barbara Walters as the poised interviewer who asks the tough questions. She's broken ground for women in the broadcasting industry; first on NBC's Today Show, and later on ABC's 20/20 and The View.
She's the woman who can get the scoop on everyone else … but what's her story? Did she always have ambitions to become the household name she is today? Would she have done anything differently? You might be surprised at the path that Walters has taken, which she describes in her 2008 memoir, Audition.
Walters takes us back to the beginning: how her parents met, what life was like as the child of a risk-taking show producer, and how she felt as a young woman with little direction. We see a glimpse of a young Walters before the television specials and the interviews. Like anyone else, Walters was struggling with the demands of home and family life while her career was blossoming at NBC.
What we didn't see on TV were her professional struggles with co-workers that almost drove her out of the business before ever finding her foothold with the network. If Walters had stood back and allowed others to stop her from moving forward with her career, we might never have known the talent she is today.
Most impressively throughout the memoir, Walters is candidly honest about her personal life and her own struggles with happiness. Although her father was a successful show businessman in his heyday, as Barbara grew older her family experienced many financial setbacks. When Barbara began making money as a broadcaster for NBC, she felt it necessary to financially support her family in every way possible.  In many situations, Barbara was expected to save her family from doom – be it financially, emotionally, or even legally. After discovering a large tax bill that her father neglected to pay, Barbara's political connections saved her father from certain jail time; something she was not necessarily proud of, but happy that she was able to protect her father.
You can also see her experiences as child influence her decisions as an adult – Barbara was hesitant to become romantically involved with anyone in the show business industry, given her own father's tumultuous past. She also shows a tendency to make hasty decisions in her personal life that don't work out for the long term. However, this same type of logic snags her the game-changing interviews at ABC, and cements her as the female broadcaster of her generation.
I wasn't surprised to find out that underneath it all, Barbara Walters has insecurities and personal problems just like everyone else. I was impressed that she chose to admit these qualities so candidly and give us a glimpse into the woman behind the legend.
It would be easy for anyone writing their own personal memoir to gloss over the hard times and the struggles, but Walters presents her story with a grace that invites you into her world.
This book is also available in an audio book version, read by Barbara herself.
About the Author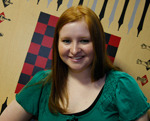 Megan Garrett is the librarian at the Sugar Creek Branch of the Kansas City Public Library. She also writes book reviews for the Independence Examiner newspaper.