Graphic novels have never really appealed to me. I like coming up with the pictures on my own in my head, and I often find the art in graphic novels to be distracting. There are many beautiful and wonderful graphic novels – they just aren't my thing.
At least, I thought they weren't, until I read Anya's Ghost by Vera Brosgol.
I sat down one evening intending to read only a few pages, and I ended up reading the whole book.
Anya is the teenage daughter of Russian immigrants, and she wants nothing more than to fit in with her American friends, date the popular boy at school, and keep her heritage under the radar. The title of the book does not refer to the ghost of Anya herself, but to a ghost that Anya discovers after falling in an old well.
Anya is frightened at first but overcomes her fear to make a new friend. She is shocked to discover after being rescued that her new friend has traveled home with her and is now invading her everyday life. Anya's ghost, Emily, starts to enjoy being in Anya's life just a little too much. 
Emily plays upon Anya's insecurities as a teenage girl and begins to give her poor advice.  Anya soon discovers that Emily has lied about the way that she died in her previous life, and begins to question Emily's motives and her ultimate goal. What is this ghost really after? Is she just trying to live vicariously through Anya? 
After trying to read other graphic novels, I found the subdued gray colors in this book to be a welcome departure from the hectic drawings of many other books. I am by no means an expert in graphic novels and I may never pick up another one again – but I enjoyed this story for many of the same reasons I enjoy other novels. 
The story moved quickly and had a smooth rhythm and pace. I felt drawn in to Anya's story – she is a character struggling with her identity as a teenager, and she is constantly trying to Americanize herself without feeling guilty about losing her own heritage. There is a definite culture clash in her life between what she wants to be, with what she thinks is ideal, and what really feels truly right within her own soul. 
Emily gives Anya a taste of what it would be like to lose herself completely. But when Emily becomes threatening Anya realizes the error of her ways. Emily begins as a small and meek character, and before I realized it, I was afraid of her. She shifts suddenly from being a friendly ghost to a crazy spirit. 
It's easy to get caught up in the pace of life when you think you want something so much that you would do anything to attain it. Anya is brought back to earth when she understands that the grass isn't always greener on the other side. Sometimes it takes a dose of reality to make us appreciate what we already have in life and to find our happiness within ourselves. 
Anya's Ghost makes a strong case for being happy with what you have and who you are, or else a ghost might come in and turn your world upside down.
Further Reading
About the Author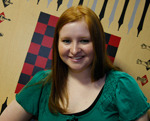 Megan Garrett is the librarian at the Sugar Creek Branch of the Kansas City Public Library. She also writes book reviews for the Independence Examiner newspaper.