Post date:
Friday, September 14, 2012
Neverland. The Enchanted Forest. Ever After. They're nice vacation spots, but you wouldn't want a permanent residence in any of those locations. Don't believe it? Pick up any of these titles and take an armchair tour of the otherworlds.
These may look like novels, but they read like travel guides to a fractured fairyland.
Find out what happened after the slipper fit, after Red Riding Hood got home, what Peter did with all those pickled peppers. There's danger, hijinks, witty repartee, and surprising domestic arrangements in the lands of outside over there.
The Book of Lost Things – John Connolly
After a harsh argument with his stepmother, David is propelled into a harsher world of darkness, imagination, monsters, and heroes. He's searching for his own dead mother but before he finds her, he will journey through the stories of his childhood. The characters, motivations, and situations are not what he remembers reading. Who knew the seven dwarves were part of a political movement to unionize their mine? But David is forging on until he reaches the realm of the king who owns The Book of Lost Things. He seeks answers, his mother, and adulthood.
The Princess Bride – William Goldman
There's no fairy tale so outrageously funny and twisted as William Goldman's classic reworking, The Princess Bride. Head straight for the perilous shores of Guilder while evading Prince Humperdinck's Pursuit Ship from the oppressed kingdom of Florin. The 25th anniversary edition comes with introductory musings from the author and the first chapter of the long lost sequel, "Buttercup's Baby."
Fables series (graphic novels) – Bill Willingham
What do princesses do after the happily? Well, Snow White divorced the cheating Prince Charming and took a job in city government. Cinderella divorced the cheating Prince Charming and opened a high-end shoe store. Sleeping Beauty divorced the cheating Prince Charming and was smart enough to get everything in the settlement. They live in Fabletown with many other exiled myths, legends, and fairytale personages for whom Fables: Legends in Exile picks up where the happy ending leaves off. Bill Willingham has created a colorful, action-packed, complex graphic novel series for adults based on childhood tales. Best to experience Fabletown in order. After Legends in Exile, visit Fables: Animal Farm.
Peter & Max (novel) – Bill Willingham
There's only one novel devoted to the characters in the Fables graphic novel series, Peter and Max by Fables creator Bill Willingham. It's an epic tale of sibling rivalry between two musically gifted brothers, Peter Piper, and Max, the piper of Hamelin. It shifts time and place between a distant medieval past and a turbulent present, detailing the venomous falling out between the brothers and leading up their inevitable showdown. Expect some interesting backstory involving a witch and her peculiar views on edible home décor and Bo Peep's occupation after she gave up sheep herding.
Lies, Knives and Girls in Red Dresses  – Ron Koertge
Perhaps no author has exhibited such distorted delight in twisting the tales as children's author Ron Koertge. His latest book, Lies, Knives and Girls in Red Dresses was published for young readers, but adults will catch every neurotic nuance in his altered fairypoems. The Little Match Girl is a strung-out street merchant selling CDs. Hansel and Gretel, abandoned by all the adults in their world, become masters of revenge and murder. Rumpelstiltskin has picked the wrong village girl to bargain with.
Forget the crowns, talking frogs, and sparkling wands. In these contortions of enchantment look for thorns, deceitful dancing princesses, and bloody axes.
About the Author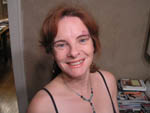 Kaite Mediatore Stover is the Readers Services Manager at the Kansas City Public Library. She is a regular guest on KCUR's Book Doctors segment and moderator of The Kansas City Star's FYI Book Club. She can tap dance, read tarot cards, and doesn't bite.