If April be the month of fools, laugh on, especially if your March Madness bracket is nothing to smile about. These five books bring the funny in a myriad of punchlines delivered by the most unlikely of jokesters.
King Con – Stephen J. Cannell
Ripping off mobsters is always a pleasant diversion, no? Stephen J. Cannell makes it a lively one by introducing colorful, loveable Beano Bates, who has teed off a short-tempered golf-playing "family" man who is now attempting a hole in one on Beano with a nine-iron.
In retaliation, Beano teams up with a naïve yet earnest DA to pull another con on the mobster. Beano begins to fall for the upright, uptight DA, so he takes her home to meet the family, all of whom have a grifting specialty they eagerly share with Beano's gal.
 For fans of caper novels, King Con has a roller-coaster pace and familiar characters from the imagination of one of television's most prolific writers.
Six of One – Rita Mae Brown
You don't have to be a ripoff artist to rip off a witty rejoinder. Just ask Nickel, the referee to her mother and aunt in Six of One by Rita Mae Brown. The Hunsenmeir sisters have been at each other's throats and had each other's backs since they were toddlers.
Now full of Southern sass and spite, the two sisters spend their golden years spying on each other and Nickel and stirring up trouble in their small town of Runnymede, MD.
As one reviewer put it, "if Mitford, North Carolina were crossed with Peyton Place" a reader would recognize the quirky residents of this small but boisterious community. For fans of gentle reads who don't mind a little bawdy humor.
Foolscap – Michael Malone
Suppose you want your caper novels to come with larger-than-life characters engaged in sophisticated swindles? How about a group of overly dramatic academics, actors, and playwrights who are trying to pass off a play one of them has written as a lost manuscript from Sir Walter Scott?
Foolscap features a self-destructive, boorish, but astute playwright who has stolen the script, kidnapped a co-ed, and hopped a plane to England. He's being chased by the introverted son of two B-list actors and the nation's foremost expert in literary forgeries.
This quickly paced, layered novel is for readers who want to unravel the puzzle with droll commentary from all characters except the playwright. He's just coarse and will string together the most creative invective ever printed.
King Dork – Frank Portman
Why should grownups have all the funny fun? Teens have been objects of humor for years, as Frank Portman observes in King Dork. Tom discovers a battered copy of The Catcher in the Rye that belonged to his long-deceased father and begins to fathom a fantasy of epic adolescent proportions in which his father has laid clues to a secret message within the pages of the book.
Along the way, Tom and his best friend form and disband various rock and roll projects, but not before giving each band a name, a debut album title, and a hit single.
This is a clever, refreshing novel of growing up as an awkward, but not totally uncool teenage boy.
Confessions of a Failed Southern Lady – Florence King
It seems everything is funnier if you set it in the South or give the characters Southern accents. Florence King makes a very good case for this axiom in her memoir, Confessions of a Failed Southern Lady.
Her domineering doyenne of a grandmother did her damnedest to raise Florence right, but Florence just couldn't manage the Southern belle mindset. Here she chronicles the oxymoronic tenets of Southern womanhood and how they shaped her life and values.
It won't make a lick of sense unless you're a native born Southerner, but suspend logic and sink into the charms and chortles of what it means to live below the Mason-Dixon line. At the very least, you will learn how to engage in a nervous breakdown in public while remaining a lady at all times.
About the Author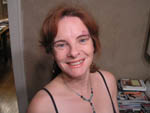 Kaite Mediatore Stover is the Readers Services Manager at the Kansas City Public Library. She is a regular guest on KCUR's Book Doctors segment and moderator of The Kansas City Star's FYI Book Club. She can tap dance, read tarot cards, and doesn't bite.