Can't throw? Can't catch? Can't get a ticket to the All-Star game? These baseball novels will be "bery bery" good to you. No other American sport lends itself so well to fiction. Both come with beginnings, middles, and ends and neither are over until the last pitch is thrown.
Before you check out these bat-cracking reads, hit up our Facebook page – we're asking fans to vote on their favorite literary characters to form an Off-the-Shelf All-Star Team of literary proportions.
The Entitled, Frank Deford
One of sports journalism's premier writers, Frank Deford tackles a sticky issue in his baseball novel The Entitled. Howie, a not-quite-good-enough ball player strikes out in the Majors, but snags a job as the manager for the Cleveland Indians. Howie is certain he can turn the flailing team around, especially with the league's best player, outfielder Jay Alcazar. Unfortunately, Alcazar is the picture of a spoiled athlete, and one night his ego-driven sense of entitlement puts his own and Howie's career in jeopardy. Which matters more, team reputation or personal justice? Only Howie can decide.
The Greatest Slump of All Time, David Carkeet
The winningest team of the season isn't celebrating. They never do. That's because they are all depressed about something. Bagwell is a virgin. Buford is scared witless of his wife's pregnancy. Eddie is trapped in a miserable marriage. And Scrappy is just plain homely. This band of misfit ballplayers is experiencing The Greatest Slump of All Time, but they could still take the pennant in David Carkeet's comic novel.
Sometimes You See It Coming, Kevin Baker
It's no great stretch to say that baseball is a metaphor for life. Kevin Baker knows this and tells a nine-inning tale in Sometimes You See It Coming. John Barr is the best all-around player fans have seen in ages. Everyone knows his stats and swing, but that's about it. No one knows his background, family history, or even if he's married or single. Off the field, does Barr even exist? A street-smart teammate and a smitten journalist are determined to find out, especially when Barr loses his game after the introduction of a new team coach.
The Veracruz Blues, Mark Winegardner
Imagine a world where there are three major baseball leagues, the American League, the National League, and the Mexican League. Mark Winegardner didn't have to imagine this scenario in his debut novel The Veracruz Blues, but he deftly mixes fact and fiction to tell the story of a Mexican entrepreneur who, in 1946, started to buy the best players, black, white, and Hispanic, in the Central American League and the American majors to field teams in Mexico. Historic figures mingle with the fictional ball players in a nostalgic look at the first fully integrated baseball season in the history of the sport.
The Sweetheart Season, Karen Joy Fowler
When the ladies take the field, they are followed by more domestic drama than the men. In 1947 Magrit, Minnesota, prosperous times have not come back after the war and neither have the young men. The Sweetheart Season details the efforts of the owner of the town's primary employer to field a team of young women to promote his breakfast season and possibly find husbands. Baseball as dating game. But more than that, actually. The experiences of one team member are relayed to her rebellious daughter, a child of the turbulent sixties, who can't fathom a time of generosity, innocence, and happy endings. Karen Joy Fowler combines a sports story with feminism and history to create a leisurely novel about the ingenuity and strength of women of multiple generations.
About the Author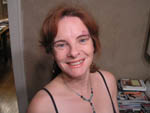 Kaite Mediatore Stover is the Readers Services Manager at the Kansas City Public Library. She is a regular guest on KCUR's Book Doctors segment and moderator of The Kansas City Star's FYI Book Club. She can tap dance, read tarot cards, and doesn't bite.