Post date:
Thursday, December 15, 2011
From time immemorial, humans have eased the encroaching darkness of winter with gatherings and celebrations involving light, food, and sacred rituals. Holidays and traditions vary from culture to culture, but often these traditions involve recipes, crafts, and decorations for the home.
Christmas is my tradition, and I particularly love the decorated trees and lights, and gatherings with family and friends. But sometimes I need ideas for how to spice up my Yuletide celebrations so it's not the same box of ornaments, turkey recipe, and tinsel every year.
The Kansas City Public Library (and its consortium libraries) have a wide selection of books to help you come up with ideas to enhance your celebrations in a variety of traditions. Here are a few titles to give you some practical suggestions for unique ways to celebrate the holidays:
Christmas
Yule: A Celebration of Light and Warmth by Dorothy Morrison presents a wonderful potpourri of holiday lore from around the world and throughout history, along with fun crafts, delicious recipes, and a calendar of celebrations for every day in December.
Christmas Around the World by Mary Lankford looks at the rich diversity of Christmas traditions found in 12 distinctly different cultures. For children, this book also includes a craft section.
Green Christmas: How to Have a Joyous, Eco-Friendly Holiday Season by Jennifer Bayse Sander will help you enjoy the Christmas season while leaving a smaller carbon footprint.
Williams-Sonoma Christmas Entertaining by Georgianne Brennan provides complete menus and decorating ideas, all designed to fit the way people like to entertain and spend time together today: a cozy fireside cocktail party; an Italian Christmas Eve supper; a chic Christmas Eve in the city; a lavish, traditional New England Christmas; a sparkling snow country breakfast; and a casual New Year's Day open house.
The Winter Solstice
The Winter Solstice: The Sacred Traditions of Christmas by John Matthews brims with folklore, stories, recipes, games, activities, decorating ideas, and songs, more in keeping with the heartfelt spirit of the original Winter Solstice festivals.
Celebrate the Solstice: Honoring the Earth's Seasonal Rhythms through Festival and Ceremony by Richard Heinberg presents an accessible, engaging tool to help people enrich their lives through the observance of ancient, astronomically determined Earth festivals.
Kwanzaa
Kwanzaa: How to Celebrate It in Your Home by Kathleen Minnick-Taylor discusses the origins and symbols of Kwanzaa, the holiday that focuses on African-American history, culture, and experiences, and offers suggestions for ways to celebrate this holiday.
How to Celebrate the African-American Holiday Kwanzaa, a videorecording (DVD), features symbols of the holiday, gift giving guidelines, Kwanzaa foods, and much more.
Hanukkah
[Seder Hanukah] = Hanukkah by Ron Wolfson explores the holiday's origins, the reasons for the Hanukkah candles & customs, & provides everything from recipes to family activities.
Hanukkah, oh Hanukkah! by Wendy Wax is a children's treasury of stories, songs, and games to share.
Hanukkah, Happy Hanukkah: Crafts, Recipes, Games, Puzzles, Songs, and More for a Joyous Celebration of the Festival of Lights by Jeffrey O'Hare explores the many different aspects of this eight-day observance-from the very first Hanukkah to today's celebrations-through games, stories, crafts, puzzles, songs, & other activities.
Miscellaneous
Holiday Inspirations by Better Homes and Gardens presents over 200 recipes and projects for decorating and crafting, and includes ideas for Christmas, Hanukkah, Kwanzaa, and New Year's.
Grandma's Classic Favorites for Holidays and Seasons: Kitchen Treasures by Paula Broberg presents classic favorite recipes for each season and meal plans for every major holiday, including Christmas, New Year's and wintertime. Bring your family together and make your holidays and seasons as memorable as the ones you had at Grandma's house.
Mary Engelbreit's Winter Craft Book contains wonderful resources for crafts, recipes, and decorating ideas that capture the spirit of winter.
Also, don't forget our vast collection of Christmas and holiday themed music CDs, songbooks, movies, and inspirational stories. 
Happy Holidays!
About the Author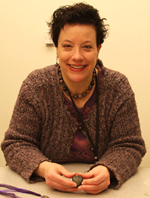 When she's not assisting customers in the Central Reference department, Jean Rivard DuFresne makes glass beads and designs jewelry, which she sells at riveroflight.etsy.com. She also writes and is a voiceover artist.