Post date:
Wednesday, December 1, 2010
What's fantasy, you ask? There's no single, accepted definition, but the giveaway is usually magic. Whether it's The Lord of the Rings or Buffy the Vampire Slayer, if the world described in the book features some difference from Earth that is the result of magic or other unexplained phenomena, you're probably holding a fantasy novel.
For those just joining me, I'm Alicia Ahlvers, the branch manager of the Kansas City Public Library's Waldo Community Library. This year, I'm on the American Library Association's national committee to pick the best genre books of 2010 for the award called The Reading List, and each month I'll be blogging a different genre. So far I have highlighted horror and historical fiction.
In choosing this month's titles, we're lucky. This has been a great year for fantasy, so be sure to check these books out and ask your friendly librarian for other great new reads. (In most of the blurbs below, you can click the titles to find the books in our catalog.)
Angelology by Danielle Trussoni – In this novel about an epic war between angels and mortals, Sister Evangeline and the scholar Verlaine are in a race against time to protect a sacred artifact that would give angels untold power over the mortal race. As secret after secret is revealed, Evangeline finds she cannot go back to the world she loved and must carve out a new purpose for her life.
Changes by Jim Butcher – One of my favorite authors – who happens to hail from Independence, Missouri – Jim Butcher has a long-running series about a detective wizard named Harry Dresden, and although it's fun to read the whole series in order, you could easily read this as a stand-alone. In this episode, Harry becomes even more enmeshed in the political struggles among various magical factions and soon finds himself drawn into a fight of epic proportions. There are big changes in store for Harry, and he must fight to avoid being overtaken by the evil forces that surround him. The fun of this series is that it seems like the bad guys keep getting bigger and badder. I am not sure what Jim will do for the next novel, maybe a nice apocalypse?
Except the Queen by Jane Yolen and Midori Snyder – When fairy siblings Serena and Meteora are banished from the fairy kingdom, they must learn to navigate New York City as humans with a few special powers, making friends and mastering strange new technologies along the way. When forces conspiring to bring down the fairy queen discover their presence, the lives of their friends are threatened. Yolen really can't be beat when it comes to traditional fantasy. This is a beautifully written novel with intriguing characters.
Finch by Jeff Vandermeer – For those searching for something different, this may be the novel for you. Set in the conquered city of Ambergris, the story revolves around a detective, Finch, who is called in to solve the double murder of a human and of one of the mysterious alien fungi who rule the humans' world. Along the way, he interrogates the alien life forms, the rebel forces, and some whose purpose is not quite as clear. This is a dark, taut novel that is unlike anything you have ever read before. (Visit the author's website.)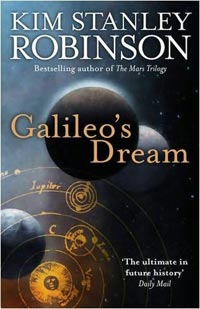 Galileo's Dream by Kim Stanley Robinson – This is one of the powerhouse authors in the science-fiction world today and his complex novel follows the life of Galileo...and Galileo's mysterious trips to Europa, the second moon of Jupiter. Every time he visits this other future world, his own reality shifts and bends. In addition to having an interesting story, there is also lots and lots of historical detail about the life of Galileo. This is a great title for the history buff fantasy readers among us. 
A Hundred Thousand Kingdoms by N.K. Jemisin – Yeine Darr has grown up expecting to be the ruler of a small impoverished kingdom, but after her mother is murdered she is summoned to the capital city of Sky by her grandfather. Her grandfather is the most powerful ruler in existence, and when she arrives, he pits her, his niece and his nephew in a battle for the kingdom. Yeine only wants to find the person responsible for killing her mother, but she slowly realizes that the losers of the competition will not only lose the kingdom but their lives. As she struggles to understand the politics of this race of people she also comes in contact with the gods and must fight to stay one step ahead of them all. Whether read as a standalone or as the beginning of a series, this book's mythology and world building are well thought out and believable, and Yeine is a multifaceted character with a creatively wrought, distinctive voice. The author leads the reader through the story Yeine is experiencing in first-person, which makes for a vividly told and sympathetic narrative. This complex political novel is also a fast-paced tale of intrigue that pulls you in and will not let you go.
Shades of Milk and Honey by Mary Robinette Kowal – For those who love Jane Austen, you might want to try this fantasy debut by Kowal. Plain but magically talented Jane Ellsworth and her lovely but ditsy sister, Melody, live in a world where magic is a part of everyday life. Very much in the vein of classic Victorian Literature, this charming comedy of manners has the two sisters attracting the attention of some very eligible suitors. This has just enough magic to make it interesting and not overshadow the historical, mannerly novel that Victorian readers enjoy. (Watch the book trailer below.)
Sixty-One Nails by Mike Shevdon - When Niall Peterson has a heart attack and is saved by a mysterious woman, he starts to realize there is more going on in London than most people know. Niall finds that not only is the world different, but he is as well. With his newly awakened powers and the help of his rescuer, they race against time to save his daughter, humanity, and all Feyre against a threat which could destroy their world. This is a fast-paced, smart and most importantly, fun new voice in the Urban Fiction world.
Spellwright by Blake Charlton – Poor apprentice wizard Nicodemus Weal cannot seem to ever get his spellcasting right. His ability to "write" the spells into his muscles and then release them is often disastrous because every word he casts seems to be misspelled. When he is revealed to be the person who might either start or stop a magical apocalypse, the other wizards take sides in trying to help him…or kill him. A unique magical system sets this apart from Harry Potter and provides a colorful backdrop for this decidedly dark and tormented hero.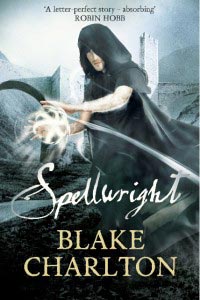 Spirit Thief by Rachel Aaron – If you like your heroes to be clever, witty and larger than life you might want to try this lighthearted fantasy. Eli Monpress has a gift for thievery and a reputation that cannot be beat. In fact, his goal is to become the most well-known thief of all time. This time, however, his plans are derailed when another magician uses the dark side of magic to try to steal a kingdom and destroy it. Eli must use all of his many weapons in an effort to defeat this evil. (Read a sample [PDF].)
Under Heaven by Guy Gavriel Kay – This is a big, sweeping novel set in the mythical country of Kitan, a country much like ancient China. After the death of his father, Shen Tai spends his mourning year burying the bones of the soldiers killed during the battle. In thanks, the enemy sends him horses, which makes him a wealthy man. He spends the rest of the novel trying to stay alive and support his country as it becomes engaged in a devastating war with its enemies. This gorgeous novel is so engaging that it is hard to put down.
What fantasy books have you picked up this year that you couldn't put down?
About the Genre-Reading Librarian

Alicia Ahlvers is branch manager at the Kansas City Public Library's Waldo Community Library and has been with the library for 15 years. She is active in the American Library Association and has served on both the Notable Books Council Award committee and The Reading List book award committee. She also works evenings and weekends for UMKC Miller Nichols Library.